our
mission
Our skills lie in the ability to recognize and train players according to their unique strengths and weaknesses. As we continue to raise the bar in our own lives, we can share this experience with others. I am most passionate about working with students who possess a strong desire to learn, work hard, and who really love the game of tennis.
There are four recognized tennis styles by the USTA. Serve and Volley players, Baseline players, Counter-Punchers, and All-Around players. Unfortunately, this puts players in a box, and people don't fit very well in boxes. That is why we expand our thoughts and training to tailor a program that is specific to you as an individual.
The game of tennis is constantly evolving and changing. Therefore, a quality instuctor should also know and implement new techniques. Not every player is the same, so there is not one technique or style that is right. It is important to evaluate: what type of tennis player you are, what your individual strength and weaknesses are, what hitting techniques work best with your individual abilities, and what motivates you.
Our techniques are designed to improve your eye-hand coordination, agility, quick first-step movement, stamina, core-strength, and breath-control. Sometimes a slight adjustment to your stroke can improve your game. We will analyze your stroke and suggest ways to improve the efficiency. However, to really make a dramatic improvement in your performance, fitness is the key.
above all,
enjoy the competition
The real influencing factor, in terms of performance and achievement, is your inner voice. The voice that can be brutal or supportive, discouraging or inspiring, childish or mature, is, in fact, the composer of your reality and provides the meaning and context for every experience you have.
our
team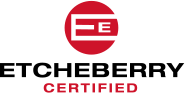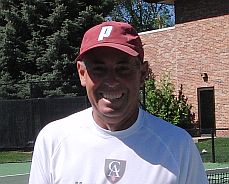 Brian Singer
In February 2008 Brian received his Etcheberry certification, and then on August 2, 2009 Brian obtained Etcheberry Certified ELITE status. He became one of only twenty-two elite certified trainers. After working in the industry for over 20 years, this was a perfect compliment to the many techniques and strategies that have been learned through many years of teaching all levels of tennis players.
Member of the PTR
Certified Professional by the Professional Tennis Registry for over 25 years.
Member of ITF
Member of Tennis One
Coach of the Year - 4A
IYCA Certified Speed and Agility Specialist - 2015

link to MaxPreps

link to Denver Post

link to Pat Etcheberry's website